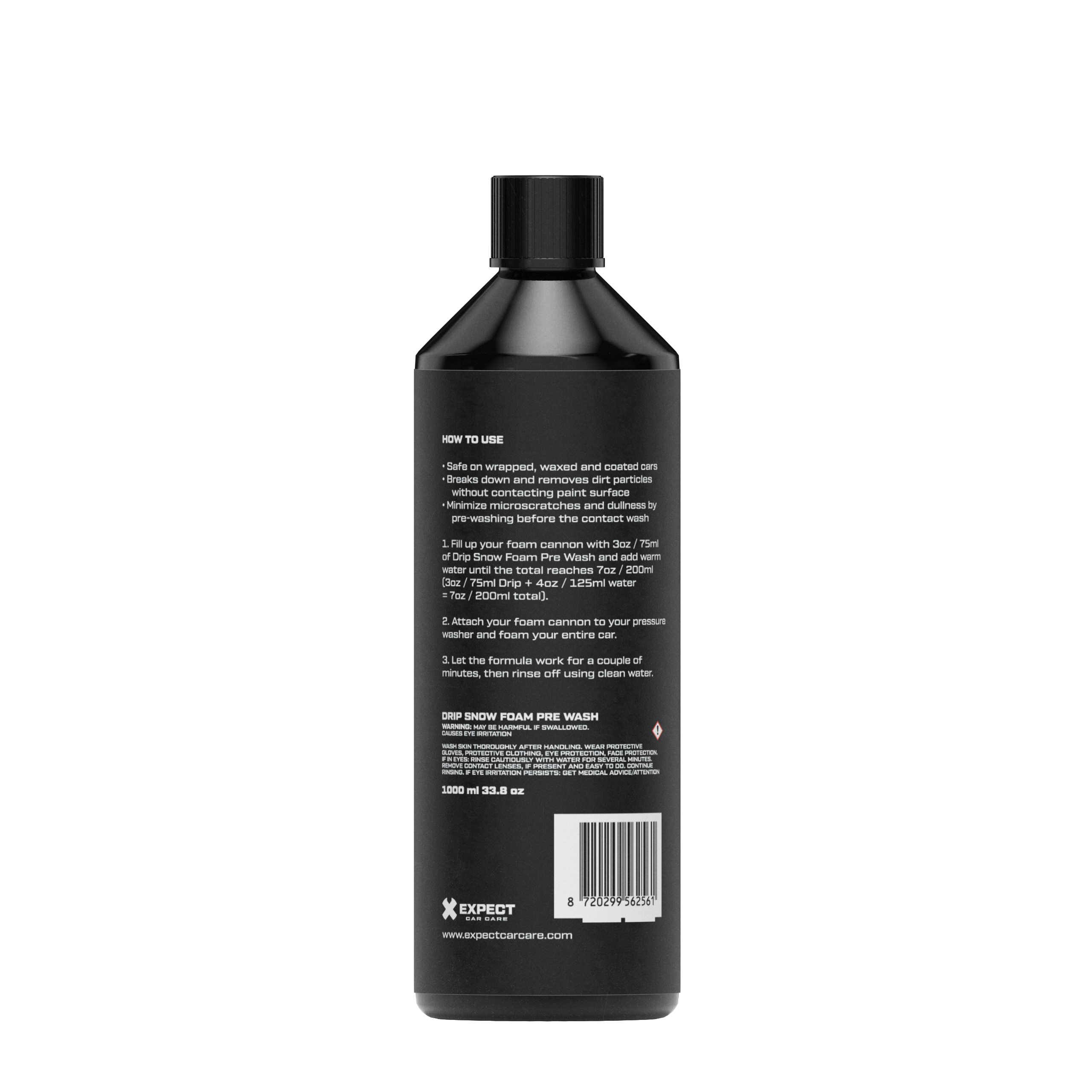 Drip Snow Foam Pre Wash
Pre wash your car with Drip Snow Foam, to let the majority of the dirt drip off your car, so you can safely proceed to the contact wash, while minimizing micro scratches. Ph neutral, so also safe to use if your car is protected. Apply with a foam cannon.
Safely removes dirt before washing
Bubblegum scent
Ph Neutral, safe on cars with wax, coating etc.
Return it for free if you aren't 100% impressed after using it
Free International Shipping on orders over 79 (4,99 on orders under 79)
Safe on wrapped, waxed and coated cars

Breaks down and removes dirt particles without contacting paint surface
Minimize microscratches and dullness by pre-washing before the contact wash

 

Minimize microscratches by pre washing

Drip Snow Foam Pre Wash is an essential part of any car washing routine because it helps prevent micro scratches and dullness. When you wash your car by hand while there are still small dirt particles on it, you risk creating microscratches that can make your car's paint look dull over time. By pre-washing with Drip Snow Foam Pre Wash before the contact wash, you can remove these particles and protect your car's finish.

 

Safe on your wrap and coated car


Our unique formula is safe to use on all types of paint, including wrapped cars, thanks to its PH neutral composition. Drip Snow Foam Pre Wash works to break down and remove dirt and grime from your car's paintwork, making it a great first step in the washing process without the need to make contact with the paint surface with a wash mitt. Plus, our formula won't degrade any protection applied to your exterior, ensuring your car stays protected and looking its best.

 

How to use?

1. Fill up your foam cannon with 3oz / 75ml of Drip Snow Foam Pre Wash and add warm water until the total reaches 7oz / 200ml (3oz / 75ml Drip + 4oz / 125ml water = 7oz / 200ml total).

2. Attach your foam cannon to your pressure washer and foam your entire car.

3. Let the formula work for a couple of minutes, then rinse off using clean water.

 

Tackle heavy grime with Blast instead

If your car is really dirty and needs a deep clean, you may want to try using our Blast Heavy Duty Cleaner. This powerful formula is specifically designed to tackle visible heavy grime and dirt on the lower half of your car. It is more powerful than Drip Snow Foam Pre Wash, so it can effectively remove tough dirt and grime. Simply spray the pre wash to the affected areas and let it do the hard work of removing as much dirt and grime as possible.

SAFELY CLEAN, SHINE AND PROTECT YOUR CAR, INSIDE AND OUT